Happy Holidays!!!
To: CPTC Junior Players
From: CPTC Coaches
Throughout the remainder of our closure the following form will be available for juniors to submit questions to our coaching staff. Call out a specific pro or ask us all. We may not be able to give regular lessons right now, but we can help with tips & tricks for your specific needs. Responses will be provided regularly & made available on our website. Additionally, this page will also be used as place for our coaches to write to the students through the end of the year. Posts can be found below.
As always, please know how grateful we are for such amazing students. We miss you more than you know! Sending you & your faimilies virtual hugs & appreciation throughout this holiday season. Can't wait to see you on the courts!
- CPTC Coaches
Coach's Corner...
12/10/2020 Lisa Moldrem
Hi everyone!
Let's get moving & have some fun! Even though we are off the court for a bit, we can always improve our athletic abilities. Physical activities are lots of fun if you get a little creative and have some type of goal or scorekeeping. Regardless of your level, improving your athleticism will improve your skills in tennis. Here are some ideas to get you started. Involve your entire family or neighbors for a break and hopefully some laughs!
Games you or your friends might already have:
- A few ideas are ping pong, pop a shot, air hockey, pickle ball, badminton, or juggling.
- I was lucky enough to have a ping pong table in our basement when I was young. It was a blast! After a while, my friends and I decided to make a scoreboard. We would have a running score for weeks to keep us excited for more!
Variations of other sports:
- Try playing basketball or hockey with a tennis racquet and a tennis ball. Be creative based on the space you have and the number of players who want to play.
- Have skill relays such as dribbling a tennis ball with your racquet. Go for speed, or through an obstacle course, or through cones, or even standing still through your legs and behind your back.
- If you want a big challenge, try it with your non-dominant hand. Good luck with this!
Racquet awareness skills you can do alone or with others:
Experimenting with your racquet is challenging, fun, and extremely useful.
- Toss the ball in the air and try to catch it on your racquet to learn soft hands and timing. Continue to toss it higher as you master the skill.
- Set your own records with basic skills or compete with others to see who can get the highest tally.
- Number of ups in a row; aim the up to eye level.
- Number of dribbles down in a row.
- Number of ups alternating the sides of the racquet.
- Number of ups alternating the sides and add the edge of your racquet.
For a challenge...
- have one pivot foot that can't move.
- have both feet stable and neither can move
- use the continental grip for the skill.
We are so looking forward to getting back out on the courts again at CPTC. In the meantime, enjoy the opportunity to try some of these ideas and make up more of your own! Skills to improve are eye/hand coordination, agility, movement, balance, and extra comfort with your racquet. The results will follow!!!
- Coach Lisa
12/8/2020 Chad Smith
Hi Everyone!
I sure miss being out on the court with all of you. I want to share some special moments from my tennis past while we wait out this latest quarantine. The doors that tennis opened for me in life were many. I've played with 4 generations of my family, I met my wife on the tennis court, I have made and continue to make lifelong friendships, I have won and lost countless battles, and to this day it provides me with the funds to put food on the table and a roof over my head. Tennis is not just a sport to play in your youth but a lifelong opportunity to experience and grow. My hope is that you all create your own special tennis moments and find fulfillment in your own way.
See you on the court again soon!
- Coach Chad
"This photo was from the first tournament I won. The photo made it in our local paper."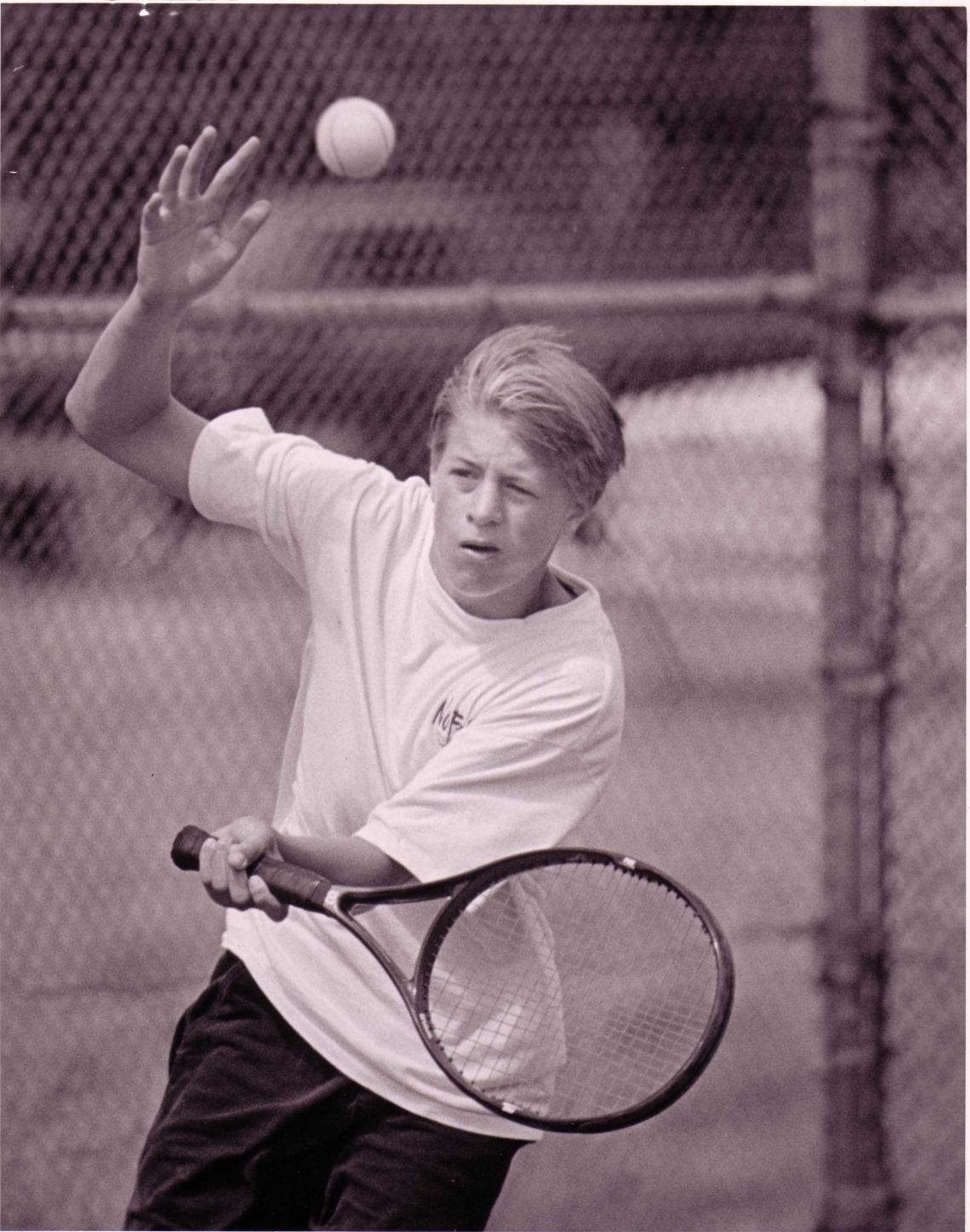 "This photo is with a couple students turned assistant pros celebrating St. Patrick's Day on the court with me. They now run their own successful junior tennis programs and teach full time as tennis professionals. We are still good friends to this day."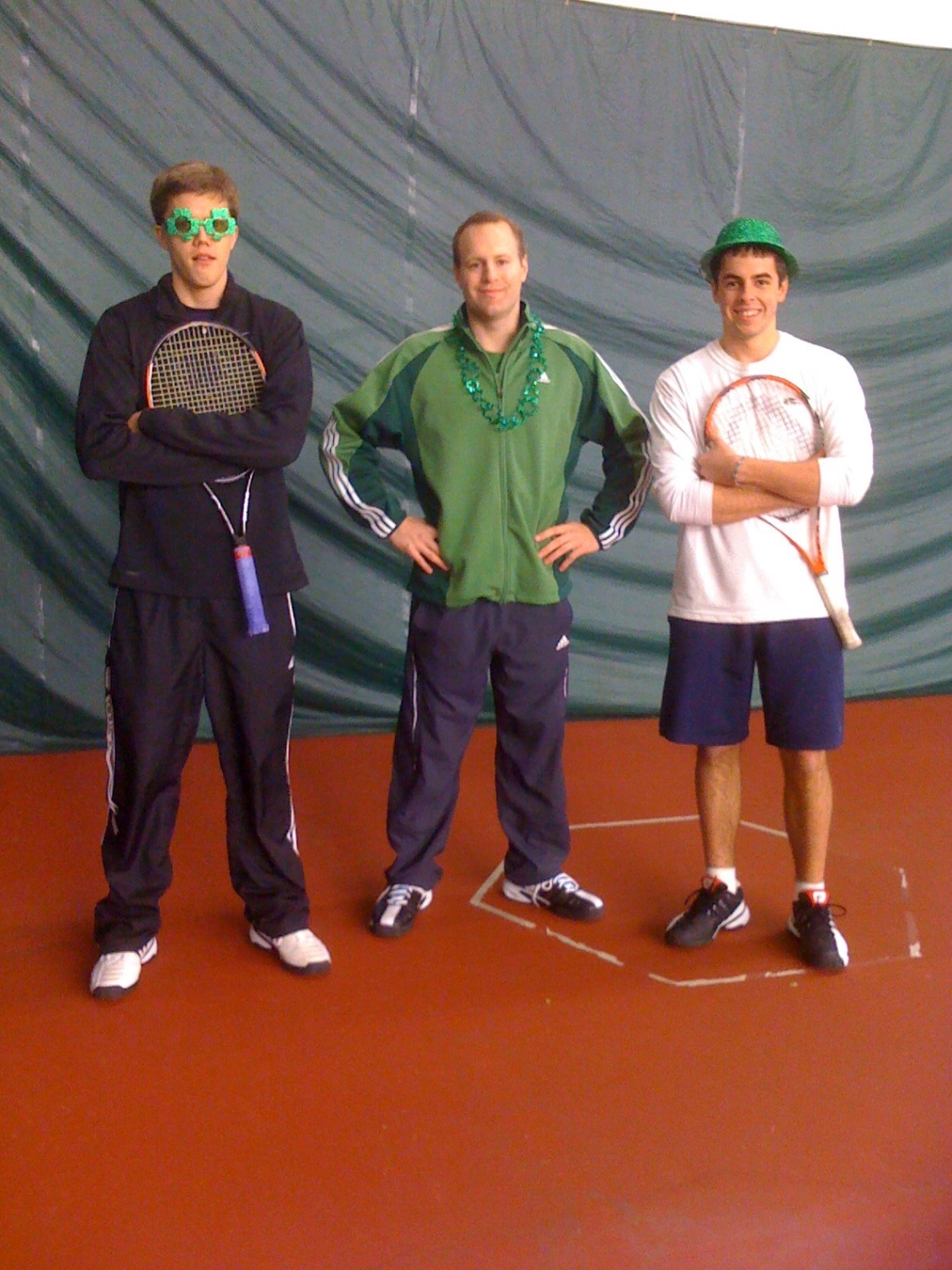 "In this photo I am hitting with my grandfather who was in his 80s at the time. He was unable to walk unassisted but was still able to get on court and rally with me. I cherish that time we were able to spend together."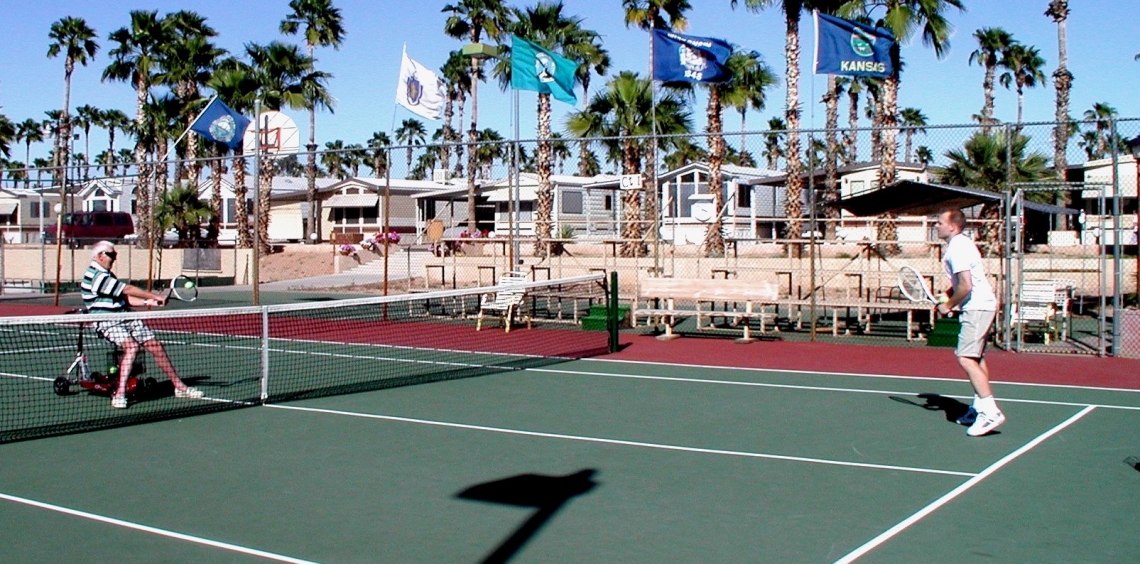 12/5/2020 Ethan Vaughn
Hi Everyone,
I hope you all had a wonderful Thanksgiving and a great start to the holiday season. I am so bummed to be on lockdown again. I feel like we had such a nice rhythm and it's tough to slam on the brakes, though I know it is so important to get this virus under control! Hopefully we will be back at the end of the year and we can get rolling again. It is important for the kids to be doing activities at home that will allow them to stay active and keep up their tennis games. It is tough with the cold weather and shorter days to get out to a tennis court, but there are still ways to improve without leaving the house.
Doing some racquet skills at home is a great way to stay sharp. Simple exercises like "ups," downs," and "flip-flops" are easy and important for hand-eye coordination. More advanced exercises can also be done at home, like "ups" and "downs" with the edge of the racquet or trying to toss and smoothly catch the ball on the strings without a bounce. If you have a little more space in the house, garage, or backyard, I highly recommend purchasing a few foam tennis balls. You can get a three pack online for a few dollars. The balls are bigger and slower, but still bounce high on almost any surface. They are soft enough to hit against a wall/shed or to even create a mini net and tennis court.
Footwork and cardio drills are easy to do at home and are a good way to keep moving. Running or biking is simple enough, as long as it is dry. I've been trying to run a little bit to make up for the Thanksgiving food and lack of tennis exercise. Jump-roping is another classic tennis exercise. Every tennis player should have a jump rope in their bag. It is cheap and combines cardio and footwork. There are so many different methods of jump-roping and it is something that my college team did often. Finally, doing some of the footwork drills that we do in class, combined with explosive movements/sprints is something that can be done in the backyard or driveway. Fast feet, swivel, 1 2 step, etc. with shuffling/crossover steps are all high-intensity exercises.
I know the kids are having so much screen time with online school, but one of the best ways to improve is to watch professional tennis. It is currently the offseason for the ATP and WTA, but there are tons of great highlights on Youtube. You can search any pro player and usually find full matches or condensed highlights. Watching with an eye for technique, strategy, and shot selection can help your child understand how high-level tennis is played. I always find at least one thing to take away from each video I watch.
I hope everyone has a safe and joyful holiday season! It has been such a crazy year but it has really made me realize how much I enjoy working with these awesome kids at Central Park. There are many things to be thankful for, despite the hard times. See you all soon!
- Coach Ethan